Mezzanine Floors
Working with leading manufacturers we can double or triple the surface area of warehouse in a simple and cost-effective way. Warehouse mezzanines floors are quick and easy to install with the option to extend or modify.
Warehouse Fit Out Solutions provide mezzanine flooring for many different types of warehouses. Our mezzanine floors are a great solution if you are looking to expand the floor space of your warehouse without the associated costs and hassle of building an extension or moving premises.
Mezzanine floors can double and even triple the floor space of a warehouse safely, our mezzanine floors comply with all building regulations. And improve the safety and efficiency of a warehouse. Overall a mezzanine floor solution is a great investment for a warehouse.
We provide many different types of warehouse mezzanine floors to include:
Conventional mezzanine
Metal shelving
Mesh partitioning
Office construction
Carton live storage
Custom storage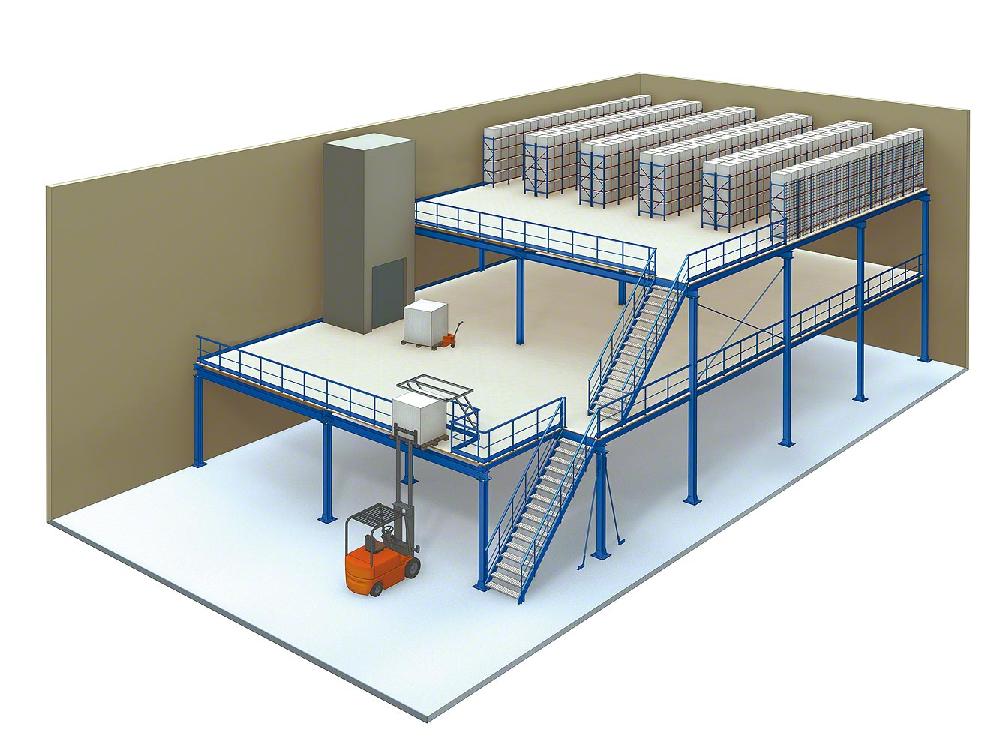 Advantages of Mezzanine Flooring
Space-saving
If extra floor space is created, a mezzanine installation can double or triple a warehouse's surface area.
Cost-savings
The overall cost of a mezzanine floor installation is significantly lower than building an extension to increase a warehouse's floor space.
No foundation is required and the mezzanine is fully removable and of course reusable.
Assembly is quick and simple with minimal disruption to the company.
Safety
Our mezzanine floors comply with worldwide regulations such as Euro Code 3 and we follow a comprehensive assembly safety protocol to help prevent accidents at work.
Each mezzanine floor is designed using calculation software, this software designs a layout and calculates all of the mezzanine floor requirements on a case-to-case basis.
Fire protection
Our mezzanine floors comply with fire regulations, all mezzanines are painted with intumescent paint, which makes the mezzanine floor heat resistant.
ARRANGE A FREE CONSULTANCY DISCOVERY
NEXT STEP?
Contact us for a FREE quote and chat about your warehouse mezzanine project
Delivering support, compliance and efficiency for over 20 years